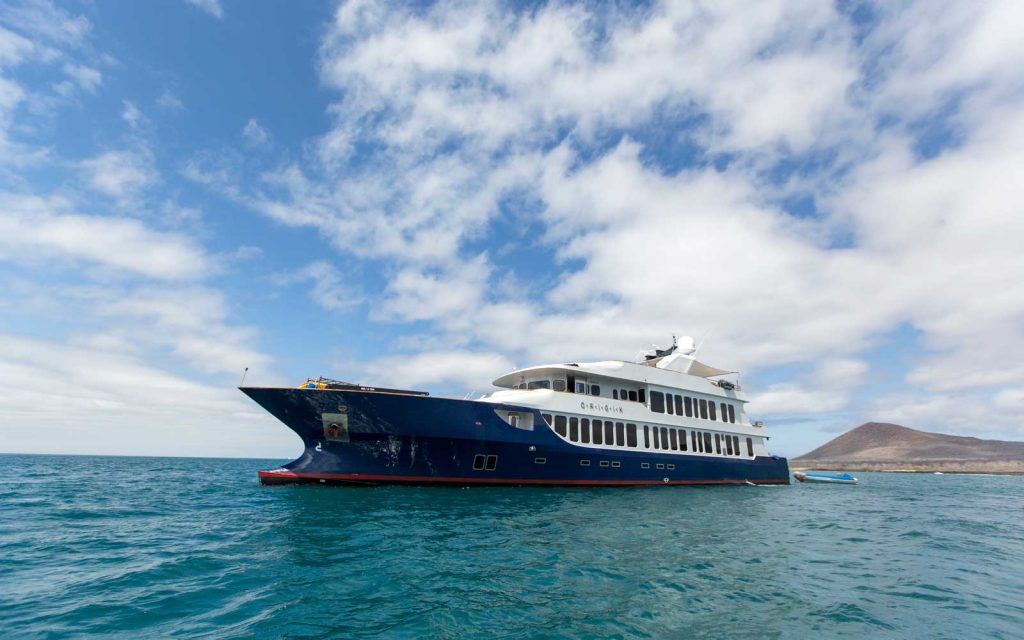 Galapagos Island boat tours offered by the more than eighty licensed operators on the islands. A great way to experience your visit to the Galapagos Islands.
These fun-filled cruises last six to sixteen days with the most popular cruises being between six and eight days. The four-day cruises have been discontinued by most tour companies because many visitors felt that four days just wasn't long enough time to take in the many spectacular sights offered by the islands.
Smaller boats carrying 10 to 20 people offer the best opportunity to visit more islands as your trips on land are limited to 20 people at a time to help preserve the wear and tear on the islands. Boats are limited to a maximum of 100 people in the area of the islands so smaller is better.
Boat-Based Tours v Land-Based Tours
You can visit more islands when you are boat-based because most of your traveling by boat is done between the islands at night when you are sleeping. If you are land-based you waste a lot of time getting ready at your hotel, traveling by bus to your boat and having to travel to whatever island you are visiting that day.
What To Expect
On your first day, you will be taken to one of the nearest islands. After a light lunch, you will visit this island where you will be taken on a tour by your guide and allowed ample time to take in natural beauty and view the many animals and plants that are unique to the area.
Be sure to take along a good pair of sneakers and hiking boots. Your guide will inform you what type of terrain you will be walking over during your trip ashore. You will also be told if you are making a wet landing or a dry landing. On a dry landing, your landing craft will go right up on the beach or lava rock. Be very careful, these rocks can be extremely slippery. On a wet landing, the landing craft cannot get directly onto the beach. You will have to take off your shoes and socks and wade to the beach in about a foot of water. Be sure to take a towel to dry your feet and remove any beach sand.
After your guided walk on the Island, you will be returned to the boat for a light lunch. After lunch, you will probably be offered a chance to do some snorkeling or swimming or just relax for a bit before going to the next island for another guided tour.
Following your afternoon hike, you will return to the boat where you can read or rest before your delicious evening meal, which is usually served around 7:30 P.M. Be sure you sample the many fresh fruits and vegetables and fish that you can probably get nowhere else.
While these boat cruises are not cheap to remember this is probably a once in a lifetime experience. So forget the expense and enjoy yourself to the fullest on your Galapagos Island boat tour.