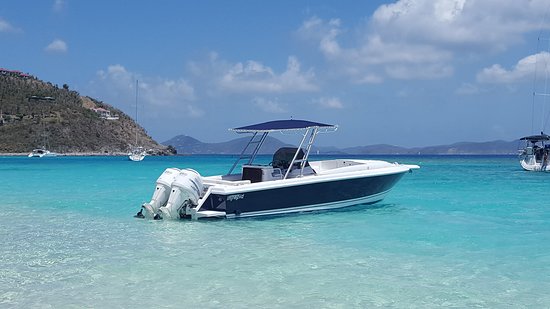 If palm tree-lined beached with thatched rook watering holes is your idea of the perfect beach bar, you'll never find a better collection of them then in the British Virgin Islands. Why? The sun the sand, the incredible water… and the access to them by boat.
The USVI has incredible beaches – think Magen's Bay on St. Thomas, or Trunk Bay, Watermelon Cay, Caneel Bay on St John, but they lack the boating access and the bar location of being right on the beach, that the BVI beach bars have.
On a BVI boat tour, you can swing over to the next harbor and hang out at Foxy's. Foxy's is a much larger place than the Soggy Dollar. It still has the beach bar vibe, though and if Foxy is there (yes, he is a real person) he's a lot of fun to talk with. Foxy's also holds a not to be missed New years eve party every year that fills the bay with yachts, super-yachts, dinghy's or whatever you can get thereon. By the way, Foxy's also has some really good food – their chicken Roti with mango chutney is fantastic!
Again, on a Pirates Paradise Adventures BVI boat tour, you can swing around to the other side of Jost Van Dyke and head over to Foxy's Taboo. Again, great drink and food on the patio overlooking the gorgeous water.
Time to hop back on the BVI boat tour and head over to Norman Island, to the infamous Willy T. While the Willy T is not exactly a beach bar – it's a floating pirate ship – It is sitting in a gorgeous bay and serves great drinks and food. The Willy T's fan-favorite ritual is for girls (and some guys) to earn free t-shirts by jumping off the top deck topless or naked. While not always wild, it can become racy quickly.
If you have small kids with you, you might prefer going to the Pirates' Bight, across the bay. This place is on the beach and they even have a pirated themed museum/gift shop next door.
If you're visiting the Virgin Islands, you owe it to yourself to get a BVI boat tour out to some -if not all of these iconic beach bars. It's a fun hop from any island, including St.Thomas, so make sure you add a BVI boat tour to your "must-do" list.
The boat you take really does make a difference! Make sure you get one that's comfortable and has plenty of creature comforts, such as a swim step for easy access to the water, upholstered seats, and maybe even a sun pad to maximize the fun on your next BVI boat tour.